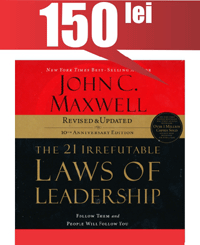 John Maxwell
New York Times Best – Selling Author
The 21 Irrefutable Laws of Leadership
Motto:"Follow them and people will follow you"
Approximate running time: 210 minutes / 3 audio CDs

John Maxwell is an internationally recognized leadership expert, speaker and author who has sold over 13 million books. His organizations have trained more than 2 million leaders worldwide. Dr. Maxwell is the founder of EQUIP and INJOY Stewardship Services.
John Maxwell has combined insights learned from his thirty-plus years of leadership successes and mistakes with observations from the worlds of business, politics, sports, religion, and military conflict. The result is a revealing study of leadership.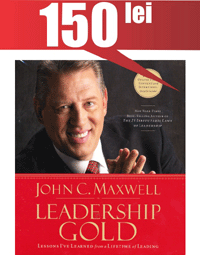 John Maxwell
Leadership Gold
Lessons I've learned from a lifetime of leading
Motto: "Smart Leaders learn from their own mistakes.
Smarter ones learn from others' mistakes and successes."
Approximate running time: 210 minutes / 3 audio CDs

John Maxwell wants to help you become the smartest leader you can be by sharing Leadership Gold with you. After nearly forty years of leading, Maxwell has mined the gold so you don't have to. Each gold nugget is one of twenty-six chapters designed to be a six-month mentorship from the internationally renowned leadership expert.
Included in the book are lessons such as:
don't send your ducks to eagle school
people quit people, not companies
influence should be loaned but never given
when you get kicked in the rear, you know you're out în front
people will summarize your life in one sentence – pick it now.
Each chapter contains detailed application exercises and a "Mentoring Moment" for leaders who desire to mentor others using the book.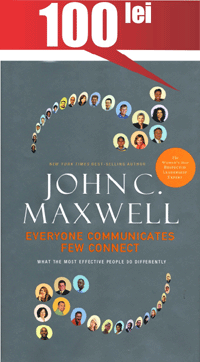 John Maxwell
Everyone Communicates.
Few Connect
Motto: "What the most effective people do differently"

World –renowned expert John Maxwell says if you want to succeed, you must learn how to connect with people. And while it may seem like some folks are just born with it, the fact is anyone can learn how to make every communication an opportunity for a powerful connection. In "Everyone Communicates, Few Connect", John Maxwell shares the Five Principles and Five Practices to develop the crucial skill of connecting, including:
finding common ground
keeping your communication simple
capturing people's interest
inspiring people
staying authentic in all
your relationships
The ability to connect with others is a major determining factor în reaching your full potential. It's no secret! Connecting is a skill you can learn and apply în your personal, professional and family relationships – and you can start now!